Tim returned from Alaska which means more southwest Utah adventures for me! He's currently living in a tent in New Harmony and finishing up that bothersome school thing at SUU. He invited me down for a weekend of fun and adventure so Rob and I left work a bit early on Friday and headed south.
We made it to Zion National Park just after sunset and joined Tim and his friends at a campground just outside the park. Southern Utah Gay Pride was going on at Zion and it was great to participate in a rather unusual event. You wouldn't expect a gay pride festival in Springdale, Utah given the small population of southern Utah and the conservative nature of the state. But there it was and they had a great turnout. Lots of outdoorsy type gays, earthy lesbians, etc. They even had an outdoor dance, a parade, and Salt Lake's own Miss Nova Starr. It was very odd and very fun all at the same time. Tim was busy drinking and cooking on his industrial sized camp stove when we arrived.
The next morning I explored a bit of Zion National Park with Rob and our new friend Stephanie. She was super earthy and decided to take a naked swim in the Virgin River. The water was a little too cold for my taste.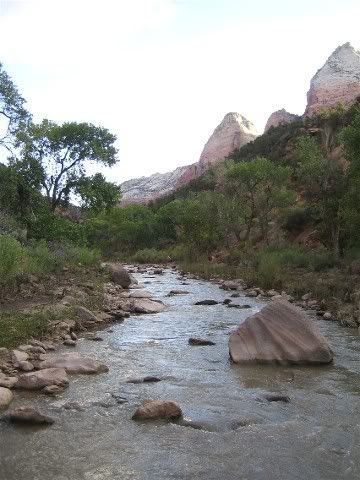 After spending some time in Springdale we headed north to check out Tim's home-sweet-tent. Suuure it sounds a bit strange to be living in a tent in a town called New Harmony (the old Harmony washed away in a flood) but it was super nice! He has a great setup - it's totally Tim.
Tim took us into Dixie National forest where we explored the
Mountain Meadows Massacre
site. In 1857, members of the Mormon church (and possibly some Paiute Native Americans) attacked and killed over 100 members of the Fancher-Baker wagon train at Mountain Meadows. It's an interesting story because of the politics behind it. It's a definite blemish on the record of the Mormon church and they tried to cover up the event for many years. The role of the Paiutes continues to be disputed.
We had planned to camp in Dixie National Forest but it got pretty cold after sunset and it seemed like there were a lot of scary hunters running around with rifles. Since bright orange is not my color, we decided to camp in Snow Canyon near St. George. It was much warmer and we had a nice fire to cook all of our naughty snacks and treats.
Snow Canyon is one of my favorite spots in Utah. There are petrified sand dunes, lava rocks, and smooth sandstone formations everywhere. The colors are bright red, white, and black. It's a very peaceful place and we all split up to enjoy the beauty and solitude of the canyon for a couple hours. We also spent some time exploring the lava caves.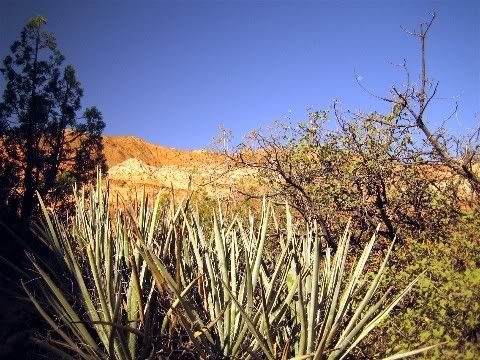 The highlight of the trip was a hike into Kanarraville Slot Canyon. A big thanks to Tim for taking us to this well kept secret. The hike involved climbing over some tricky waterfalls and wading waist deep in cold water, but I loved every second of it. The canyon walls were reddish pink and extremely narrow in spots - one of the most beautiful places I have ever seen in Utah.