I stopped going home to Massachusetts for Thanksgiving after three of my grandparents died within a short period of time, effectively shrinking my immediate family almost in half. One reason for this is that it allows me to spend more time at home for Christmas instead of two short trips home within one month. The other reason is that Thanksgiving simply wouldn't be the same. Thanksgiving always meant going to the grandparents to cook, eat, talk, and be thankful that we could spend the holiday together. Nothing more. Thanksgiving is a pure holiday because theday itself isn't tainted with shopping, presents, cards or any othercommercial nonsense (that's saved for the day after). It's about simple tradition.
Holidays require tradition to give them meaning. The meaning of Thanksgiving has changed for me over the past few years as I've repeatedly found myself in frosty cold situations.
Two Thanksgivings ago was my first winter camping experience at Fisher Towers near Moab. The Southern Utah I know and love in summer is not the place for summer tents or sleeping bags in November. No firewood means an early bedtime ahead of a very long winter night. You say a quick prayer each time you shiver awake that the dark has been replaced by dawn, only to look at your watch and see it's just after midnight. When morning finally arrived, Rob and I thawed out in a little cafe in Moab. I have never been so thankful for hot coffee and hot food - it was the best meal of my life. When I think about that great trip and all the amazing places we saw, it's strange that breakfast is my most vivid memory.
Rob and I camped in Goblin Valley last Thanksgiving. The temperatures were in the single digits but thankfully we had warmer gear than the previous year. An early season snowstorm dusted the red rocks with a layer of white which made the landscape even more impressive. The days were filled with hiking slot canyons and viewing ancient rock art, but the long cold nights were still a challenge. The little bundle of firewood we purchased didn't last long. It was looking like another long night in the tent until we realized our camping neighbors weren't coming back and they had left several bundles of wood. Our conservative little fire quickly became a bonfire that lasted well into the night. I was so thankful that we didn't have to spend 12 hours in the tent to keep warm - we had a great fire that allowed us to enjoy the stars, the full moon, and the peaceful quiet of the desert in winter.
I spent this past Thanksgiving in Fairbanks, Alaska visiting Tim and his "family" of amazing friends. The people I met on that trip are without a doubt some of the nicest people around. Alaska is not an easy place to live and along with the natural beauty come a lot of challenges and hardships. People are tough, but they are also warm and welcoming. They know how to live and they know that while it's nice to be thankful for the obvious things like money and health, it's important to appreciate the small things that are so much easier to come by and will always be there, even when the big things aren't. It's hard not to love life when all it takes is a cup of coffee, a warm fire, or dinner with new friends to make your day. That realization is something to be truly thankful for.
Alaskan heat wave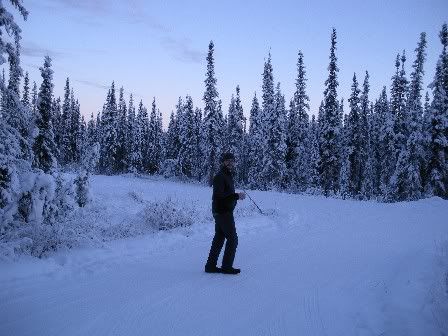 Walking around Tim's neighborhood, waiting for the sun
Wine in a mug - dinner in Carlo Creek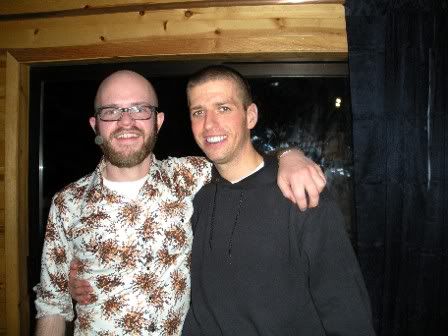 BFF Tim and me
Brightening up the long night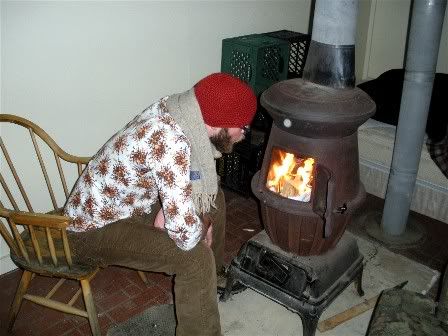 Tim making a fire. Me being useless.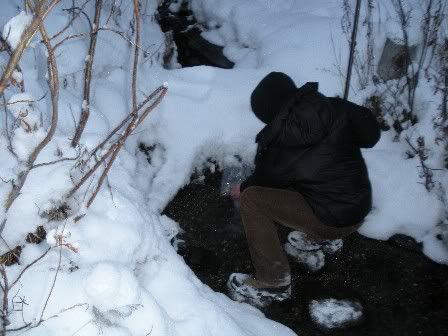 Collecting drinking water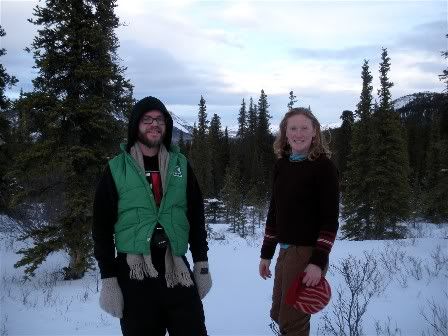 Tim and Erin on our snowshoe adventure around Carlo Creek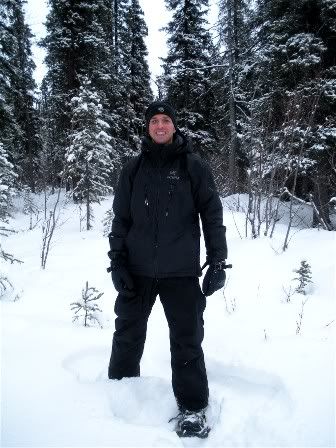 Me snowshoeing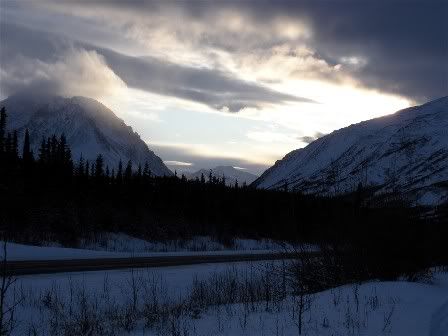 Early afternoon sunset